ABOUT CHRONIC VENOUS
INSUFFICIENCY (CVI)
Chronic venous insufficiency (CVI) is a condition that occurs when the walls and/or valves of the leg veins do not work properly. Veins work to return blood to the heart. For the blood in your legs to return to the heart, it needs to flow upward, so the leg veins' one-way "valves" stop the blood from flowing back down.

When these valves become damaged, it causes the blood to leak back down and accumulate in the leg veins.

Over time, CVI can cause varicose veins 1, spider veins 2 and swelling of the legs, itching and the development of ulcers near the ankles.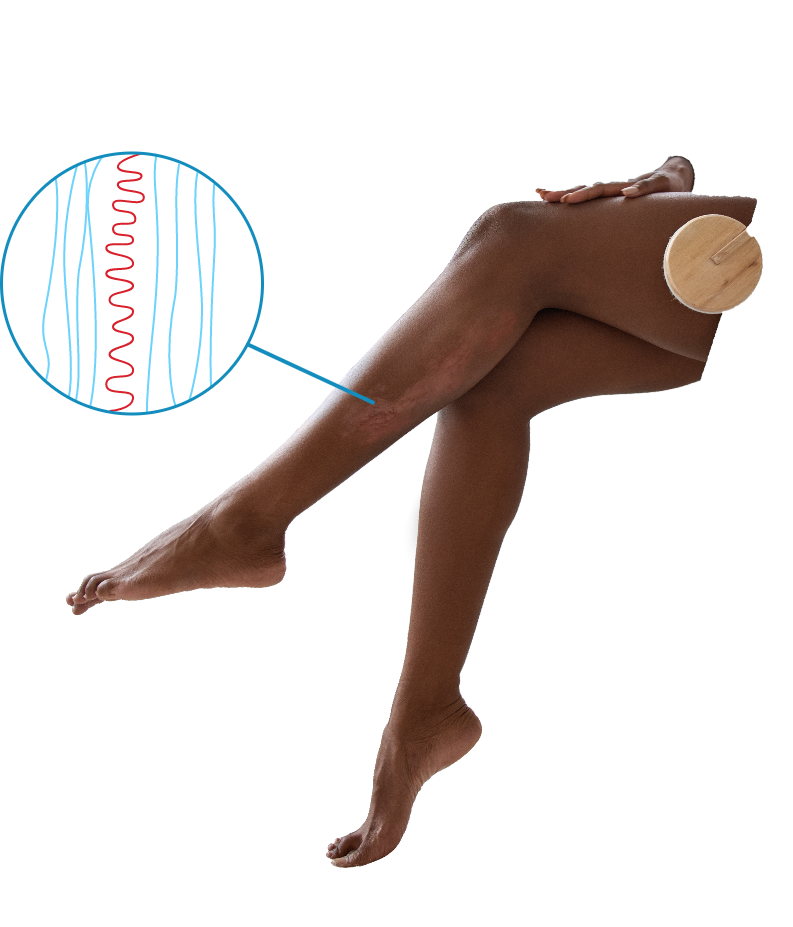 1. Varicose veins: Varicose veins is an enlarged or twisted vein that often appears as blue and bulging and is clearly visible through the skin.
2. Spider veins: Spider veins are also called spider telangiectasia, these are a group of widened veins that can be seen through the surface of the skin and whose shape resembles a spider.
SYMPTOMS
Various symptoms are associated with CVI and varicose veins, including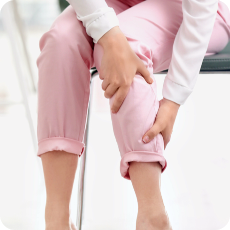 Pain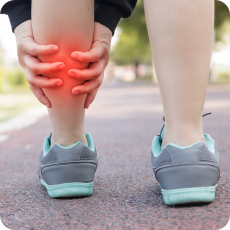 Cramps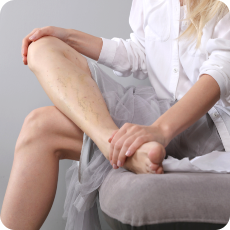 Achy / tired legs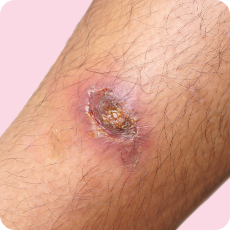 Leg ulcers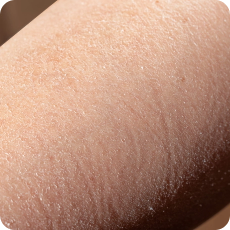 Flaky or itchy skin
on the legs or feet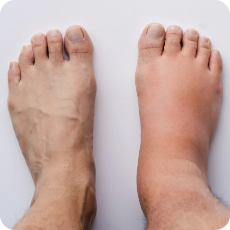 Swelling in the lower
legs and ankles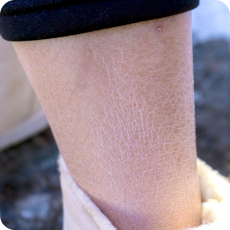 Leathery-looking
skin on the legs
One of the first symptoms of CVI is referred to as "heavy
leg syndrome". Sufferers describe this as legs that feel
heavy, tired, swollen and crampy.
NORMAL VEIN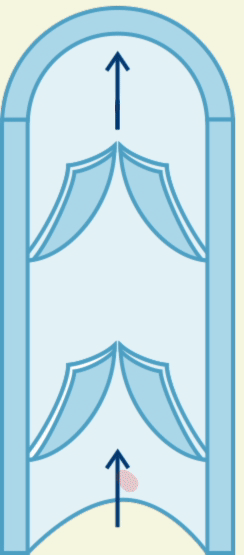 VARICOSE VEIN
WHAT CAUSES CVI?
Risk factors for CVI include
✓ A family history of CVI or varicose veins
✓ Increasing age
✓ One or more blood clots in superficial or deep veins
✓ Gender (female)
✓ Pregnancy
✓ Obesity
✓ Prolonged standing or sitting
✓ Heavy lifting
✓ Smoking
BY THE AGE OF 50, NEARLY
HALF OF

ALL WOMEN

AND

1

IN

5 MEN
in North America have significant leg vein problems.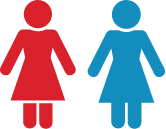 50
%

20
%
DOES ANYONE IN YOUR FAMILY SUFFER FROM THE SYMPTOMS OF CVI?
In a market research study,
3

out of

4

CVI sufferers had at least one other
family member who also suffered from CVI.

If not treated, CVI and its consequences can become serious. If you have any symptoms of CVI, it is important
that you speak to your doctor. The symptoms will not go away untreated.
CVI IMPACTS QUALITY OF LIFE
There are more people who suffer from CVI on a daily basis, versus those who suffer less
frequently, like 3-4 times a week, once a week or a couple of times a month.
Many say that their symptoms cause them to have difficulty falling asleep or wake them
up during the night because of leg cramps.
Many people find that their symptoms worsen when they're more active than usual or when they have to spend long periods of time standing.
This can be a serious problem for people who have jobs that require heavy lifting or a lot of standing, like warehouse workers, landscapers, hairdressers, cooks/chefs, pharmacists, security guards, etc.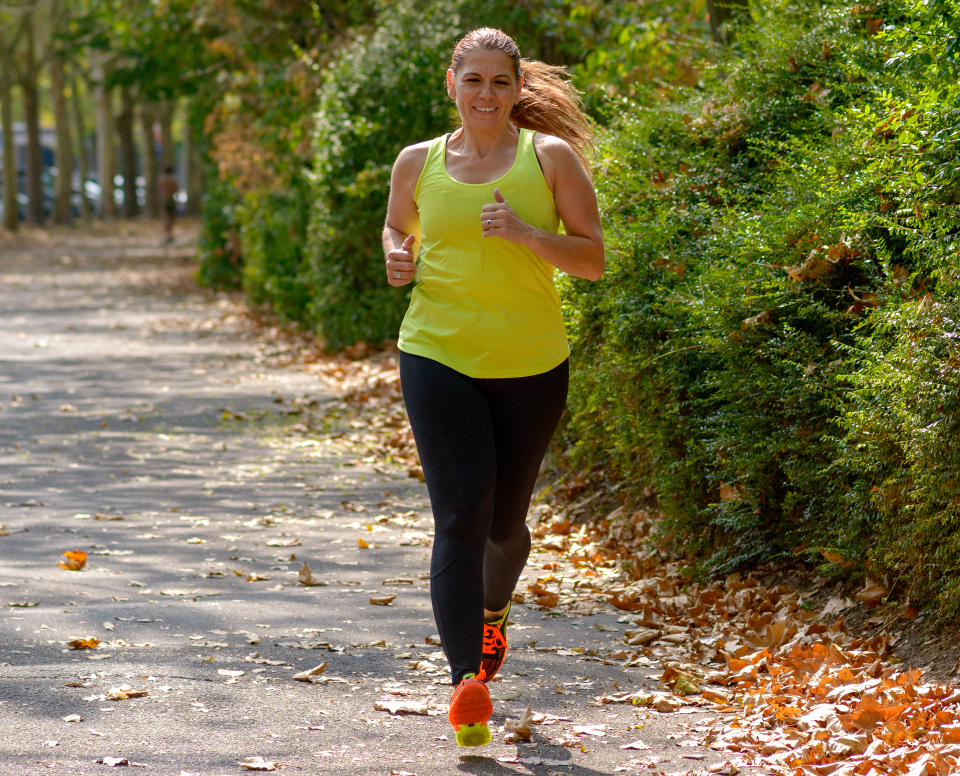 REDUCE SYMPTOMS OF CVI
Six ways to show your legs you care.
1. Avoid long periods of standing or sitting
If you have to stand a lot at work, try to take frequent breaks to sit down. Or, if possible, sit on a stool or chair for part of the day.
If you're going on a long trip where you need to sit down for a long period of time, flex and extend your legs and feet regularly (at least a few times each hour) to keep the blood flowing in your legs.
2. Wear compression socks or stockings
A wide variety of compression socks and stockings are available, usually at your pharmacy or medical supply store. Ask your doctor which type might be right for you.
If you wear compression socks or stockings, remove them at night and wash them regularly.
3. Exercise regularly
Walking is a great choice because it can help improve the tone of your calf muscles.
Swimming and yoga are also beneficial because they are low-impact and use muscles all over the body.
4. Maintain a healthy weight
Extra weight places additional strain on your joints and muscles. If you are overweight, speak to your doctor about starting a diet and exercise program. Even a small weight loss can make a big difference.
5. Elevate your legs when sitting or lying down.
When you have CVI, your legs don't pump your blood back up to your heart the way they should. When sitting, increase and promote proper blood flow by elevating your feet to a level that is higher than your heart. When lying in bed, try using pillows to elevate your legs.
6. Take good care of the skin on your legs and feet
Make sure that your skin is well moisturized so that it doesn't crack easily.
If your skin is itchy, speak to your doctor or pharmacist.
Be sure to check your legs regularly for signs of red or broken skin. If your skin is red or broken, contact your doctor right away.